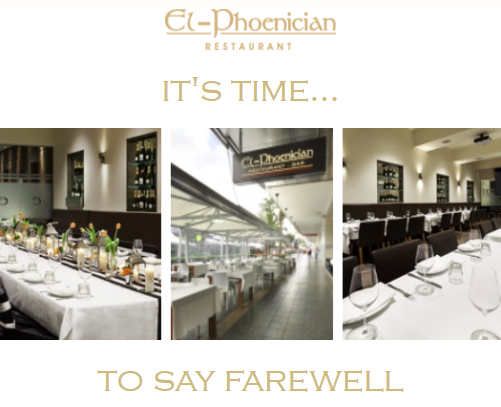 After over 24 years of feasts and fanfare, El-Phoenician will hoist anchor and set sail for new adventures. This means that our Parramatta venue will be no more.
The past two years have been a challenge to all of us, and while we knew you'd welcome us back with open arms (and empty stomachs!), hospitality has borne the brunt of a difficult transition, a new way of operating, leaving many owners, operators, and staff vulnerable.
For us, it was also a matter of Parramatta's evolution. We lost carparks and parking spaces as the city developed, and the Light Rail construction was at our doorstep.
We had to do what was right for us and move on.
But we don't leave empty-handed!
We are left with the memory of laughter bouncing off the walls, the clanging of plates, the mystical sound of drums heard from Church Street and beyond when you celebrated with us.
We rejoiced every time we were a part of your important milestones. From weddings, christenings, birthdays to long, languid lunches and intimate moments shared with friends and family.
Some of you took your first steps in our venue only to return with your children.You were brought together with a love for food and the culture of sharing a meal.
Most of all, we took pride every time we saw you pat your belly and tell us, "I couldn't fit another bite in." That was always the El-Phoenician way.
The journey isn't over for us! Our venue, Jounieh in Walsh Bay, is still open and still serving our signature delights with an El-Phoenician twist (and a waterside view for days). We'll also be looking forward to finding another space around parramatta to fill with the warmth of our hospitality down the track.
But for now, the time has come for us to say 'goodbye' until we meet again.
Thank you from the bottom of our hearts for your ongoing love and support throughout the years.
Love from all of us at El-Phoenician ♥